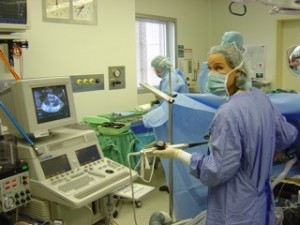 There are many different types of anaesthesia and each anaesthetic experience is unique. No-one else is having your operation on your day.
Every anaesthetic is tailored to individual patient needs and adjusted throughout your operation as demands change. Surgery places patients under physical and physiological stress. Many operations today are possible because of advances in anaesthesia and the training of specialist anaesthetists.
An anaesthetist's role is to work as part of the team with the surgeon to prepare and inform patients about their particular risks and options for anaesthesia associated with their surgery. This takes into account associated medical considerations as well as the timing, length and complexity of the surgery.
More information is available here.
Our shared objectives
We have the same goals for your surgery and recovery: your safety and comfort.
Anaesthesia options
Local or regional anaesthesia may be combined with sedation
Sedation
General anaesthesia which may be provided in a variety of ways
Invitation
If you have any questions about anaesthesia or pain relief options for your surgery, discuss them with me. Use the contact form to let me know your question or leave your number and I will call you.