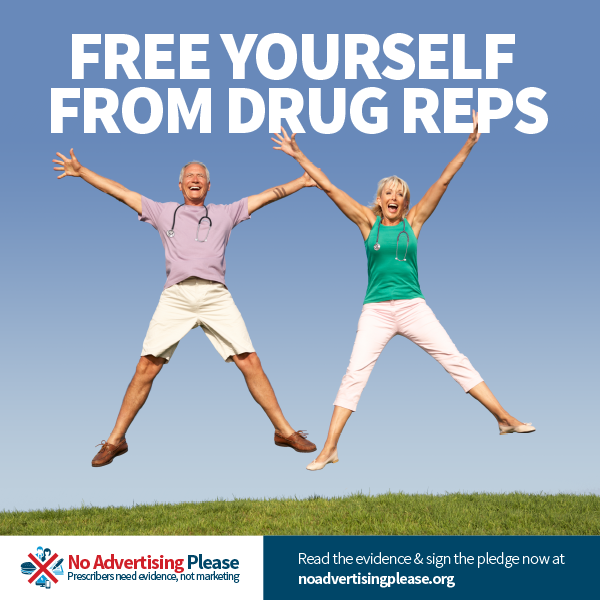 Yes, the evidence shows that they do.
So, I've taken the pledge :
The No Advertising Please Pledge
I believe, with the wide availability of independent medication information, I do not require promotional material from visiting sales representatives from pharmaceutical companies ('Drug Reps'). The primary role of the Drug Rep is marketing: encouraging doctors to prescribe their company's medications. This conflicts with my role to provide the best evidence-based treatment and independent advice to my patients. I therefore take this 'No Advertising Please' pledge and choose not to see Drug Reps at my practice for one year.
It seems highly unlikely that pharmaceutical companies would spend so much money on promoting their products to doctors via pharmaceutical reps – more than US$6 billion annually in the USA – if reps were ineffective. It would also be irresponsible to their shareholders to spend money in this way. Unfortunately for those of us outside the pharmaceutical industry, we don't get to see much of the industry's data on the effectiveness of promotion.
We don't see the data, but the companies do. We know that the profit from each rep must outweigh their total annual cost: salary, vehicle, training, gifts and other add-on costs. And we know the rep's only method of making a profit is to influence what flows out of the doctor's prescription printer.
Specifically, the profit comes from the extra volume of company products the doctor prescribes after seeing the rep, compared to the volume they would have prescribed anyway if they had not seen the rep. If this difference was nil or minimal (as many doctors claim would be their own case), all drug rep jobs would have vanished long ago. In fact, the after-costs profit from these extra scripts presumably totals more than $6 billion annually in the US, or the pharmaceutical industry needs some new accountants!
Many researchers have tried to study direct examples of whether promotion is linked to prescribing changes, and whether these prescribing differences are good or bad. In 2010, Geoff Spurling and colleagues did a systematic review of all such available studies looking at the provision of information from pharmaceutical companies and doctors' prescribing. This included pharmaceutical reps, print advertising, meeting sponsorship and so on. They found that promotional information was not always linked to changes in prescribing, but when it was, it was almost always associated with more prescribing, lower quality prescribing, and more expensive prescribing. (Spurling)
Better information is readily available!
In Australia, NPS Medicinewise is a well-resourced, independent body which offers practical tools and evidence-based resources on various therapeutic topics to support quality use of medicines and medical tests. It provides extensive, free online resources and decision-making tools for health professionals. NPS also provides free facilitator visits to medical practices, which we recommend as an excellent alternative to visiting pharmaceutical reps.
Rather than focusing on just one drug—let alone just one brand of one drug—the NPS facilitators and resources compare the various available treatments for a particular disease or symptom. This 'evidence-based comparison' approach offers a far better basis for balanced clinical decisions than does a series of marketing visits and leaflets advocating the benefits of each individual medicine brand.
For the same reason,  the Australian Medicines Handbook – is a practical, reliable, comparative medicines information resource. Again, the availability of this time-saving, independent resource provides a counter argument to doctors who claim they must obtain a 'balanced' view by seeing all the drug reps from rival companies.
The Australian Therapeutic Guidelines prides itself on publishing independent, unbiased and objective information about medications. They have no sponsors, advertisers or shareholders, and maintain strict and transparent conflict of interest guidelines. The Therapeutic Guidelines series covers fifteen topics, with advice about the use of nearly every therapeutic medication most doctors would ever use.
The product information (PI) for every drug approved by the TGA is readily available online, just a couple of mouse-clicks away. The PI has been written by the pharmaceutical company, and provides the scientific basis for all the clinical claims allowed to be discussed by their pharmaceutical representatives.
There are many other good sources of medication information online published by government bodies and hospitals (e.g. Melbourne's Royal Children's Hospital handbook and pharmacopoeia), and it is important to look for those that are more independent, and transparent about potential conflicts of interest. Independence is not all-or-nothing, and some judgement is called for when comparing sources. However, to put this into perspective, remember that visiting pharmaceutical representatives, by definition, have substantive conflicts of interest and are never independent.